Tent Rentals in Morris County, NJ
Tent rentals are a great way to make sure that you have the perfect venue for a gathering. Weddings, birthday parties, and more should always have a tent set up when you have an outdoor event. With our tent rentals in Morris County, NJ, you don't have to worry about whether the weather will hold up. You'll be able to offer plenty of shade and give people a place to go if there's any wind or rain. With a wedding tent rental, you want to be sure that nothing goes wrong. After all, there may be all sorts of incredible things underneath the tent – the cake, the gifts, and of course… the bride! K Party Rentals will see to it that the wedding tent is erected in a sturdy manner. We use commercial-grade frame tents that are heavy-duty. With the support of an aluminum frame and staking that occurs on all sides, we make sure that the tent isn't going anywhere. Even when staking isn't possible, we are prepared with water barrels.
We have an array of tent sizes to ensure plenty of room for everyone and everything. We understand that you want to make sure people have room to walk around. There may be dancing, a food buffet, and all sorts of other things happening.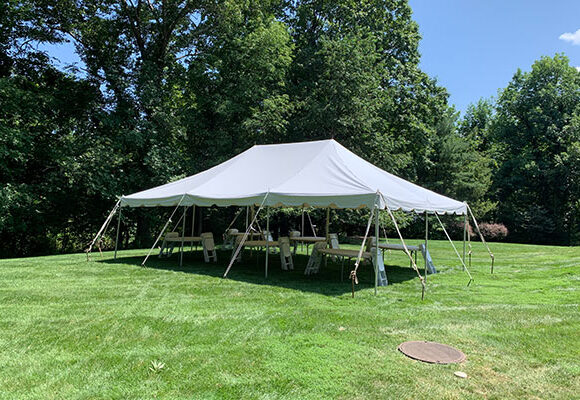 Tent Sizes
Space is what we offer – and our tent rentals are right for any event that you have planned.
If you're not sure about the tent size, allow us to help. We can offer recommendations based on the number of people you want to sit under a tent. We can provide configurations that make sense based on table sizes and other details.
No matter how many people will be in attendance, we have the tent (or tents) perfect for your event. The 40×100 pole tent is our most popular wedding tent rental simply because there's room for people to sit and eat, room for a dance floor or game rentals, and room for photos with the bride and groom.
Want to Rent Tents?
When you're ready to reserve your tent rental in Morris County, contact us at K Party Rentals to get quotes and learn more about our comprehensive rental services.