Table Rentals in Morris County, NJ
Table rentals are an important part of every party. There are all sorts of table options – round tables, rectangular tables, and even high-top tables that people will stand at. It's important to choose the right table for your event in Morris County, NJ. It will impact the table linens that you choose, what happens at the table, and even whether you're going to add chair rentals to the tables.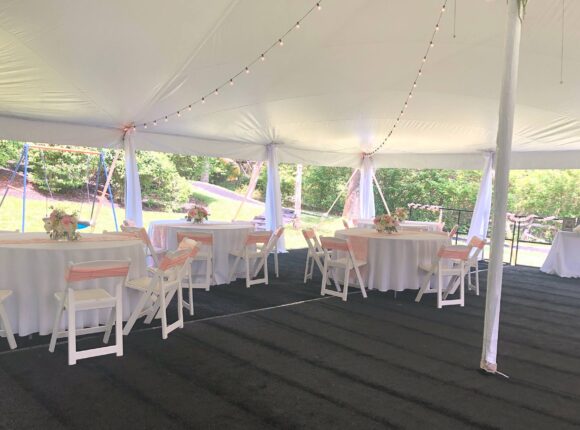 We Have a Variety of Tables to Choose From
Depending on the type of party you're hosting and what size of tent rentals you're pitching, you may need a variety of tables as they will take on different roles:
Gift table | Buffet table | Game table | Seating
We can work closely with you to determine the number of tables you need based on all that is going on as well as how many people you will need to seat.
We offer high-quality tables that you can depend on throughout the duration of your event.
Table Sizes
Our 5' round tables are popular for seating solutions. You can comfortably fit eight people around each table – and there's plenty of room for people to eat and drink while they're seated. There's always the option of letting people walk around and mingle. For that, we recommend placing 30" hi-top tables throughout the location. This way, people can set a drink down and have a place to center a conversation around.
Rental tables from K Party Rentals can make it easier for you to host your own wedding, birthdays, and other celebrations. There's no reason to spend the money to buy tables – and with our affordable pricing, we make it simple. We'll deliver, set up, and break down all of the tables, providing you with significant time savings.
We'll deliver the tables anywhere.
They can be used in outdoor settings, in rental venues, and more. We also have various party packages to save you money when you need not only tables, but also tents and chairs.
Ready to Rent Some Tables?
If you have questions about our tables or want to make your reservation for a table rental, contact us at K Party Rentals today.